Discover more from Radical Soul
News, profiles, and musings about modern spiritual movements that center justice, offer healing from religious trauma, and reject white and Christian supremacy.
Reimagining Lord as Audre Lorde
Chicago's House of the Lorde celebrates its first birthday
"When we speak, we are afraid our words will not be heard nor welcomed. But when we are silent, we are still afraid. So it is better to speak remembering, we were never meant to survive."
These words were from the poem A Litany for Survival, written by poet Audre Lorde and first published in 1978. Decades later, Chicago-based burlesque performer Jen Freeman (also known as Po'Chop) read them when she was gifted the poem by a friend. Her world was never the same. 
Thanks for reading Radical Soul! Subscribe for free to receive new posts and support my work.
"As soon as I read it, I was like, this is a prayer," Freeman told me when I interviewed her for my podcast. "So I began saying it as a prayer, treating it as a prayer. I would wake up and chant it. I committed it to memory. I wrote it on my wall. I just clung to that poem. Still do."
Audre Lorde has been a major influence to Freeman and shows up over and over again in her work.
On her website, she explains:
"Our work [meaning Freeman and Po'Chop] is a reimagining of Lord as (Audre) Lorde where worship is a space where the erotic is regarded as the highest knowledge and ancestors are whispered into walls made of brown bags. Our healing is urgent. Through edifying the legacies of Black women and femmes we heal from the lessons we learned between pews."
Freeman has honored Audre Lorde through events like The People's Church of the Ghetto — a gathering in Bronzeville. a South Side Chicago neighborhood, which contained performances from Black Chicago performers "thanking our Lorde, Audre for their lives and work."
The Legacy of Audre Lorde
Lorde, who passed away in 1992, had a prolific career as a professor, activist, and poet. She had a significant influence on Black feminism and queer theory and spoke out against sexism in the Black community and racism in white feminist spaces. She also lifted up other Black feminist voices through projects like Kitchen Table: Women of Color Press.
Lorde was also an advocate for using the erotic and as a source of power. In her essay, "Uses of the Erotic: The Erotic as Power," Lorde explains, "For once we begin to feel deeply all the aspects of our lives, we begin to demand from ourselves and our life-pursuits that they feel in accordance with that joy which we know ourselves to be capable of."
This essay inspired a new kind of activism which centers the pleasure of oppressed people.
Writer and activist adrienne maree brown included Audre Lorde's essay in her 2019 book Pleasure Activism. brown writes:
I am aware that Lorde uses the language of the erotic, which specifies the pleasures and aliveness associated with sex. I love the erotic, and it's all over this book, but I also wanted to broaden the scope to all the experiences that bring us happiness, aliveness, transcendence—which is why this is pleasure activism and not erotic activism. The place where it all comes together, for me, is the orgasmic yes. 

Lorde made me look deeply at my life to find the orgasmic, full-bodied "yes!" inside of me, inside of the communities I love and work with, and inside our species in relationship to our home planet. Through her writing here and in other places—Lorde was prolific—I became attuned to the ways erotic and other pleasures shaped and healed me. It helped me to understand that there is no way to repress pleasure and expect liberation, satisfaction, or joy. With Lorde's guidance, I reflected on how my experiences with sex had opened doors to loving my body in spite of what society had taught me about big Black glasses-wearing queer girls being undesirable.

I began to move toward my own yes, my satisfaction.
Freeman remembers reading Lorde's essay, "Uses of the Erotic," for the first time and being angry that she'd never been taught it in school, even though she'd taken classes where the work would've been highly relevant. By then, she'd also dated other women who never brought up Lorde's work.
"I remember feeling really infuriated and thinking, 'I want to ensure that this doesn't happen to other people, that I can create as many channels through my work that people can be introduced to her work and other black women."
House of the Lorde
It's this commitment that inspired Freeman and fellow organizer and poet Tiff Beatty to open the House of the Lorde, a sacred space on Chicago's Pilsen neighborhood, that honors the words and teachings of Audre Lorde. 
The space centers the experiences of Black women, femmes, and queer folks. It's a place where Sunday school and traditional church services have been replaced by Black feminist study groups and Burlesque workshops.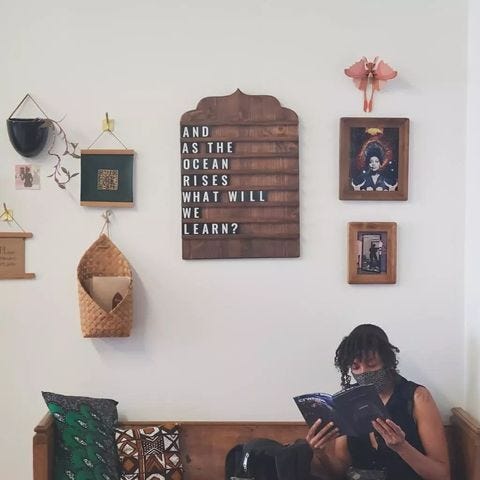 "It is what I'm considering the prototype of my life work or my biggest dream, which is to start a church, to actually reclaim space," Freeman said. "A space that will be an art gallery, a reading room, a poetry stage, a dance studio. And also, yeah, a spiritual home."
House of the Lorde is getting ready to celebrate its first birthday on Saturday (intentionally designed to coincide with Audre Lorde's birthday of February 18th.) Later in the month they will be featuring the work of Chicago artist Alkebuluan Merriweather, along with others. There are regular burlesque classes, and reading groups, and public gatherings of all kinds.  I recommend anyone in the Chicago area go check it out.
Thanks for reading Radical Soul! Subscribe for free to receive new posts and support my work.